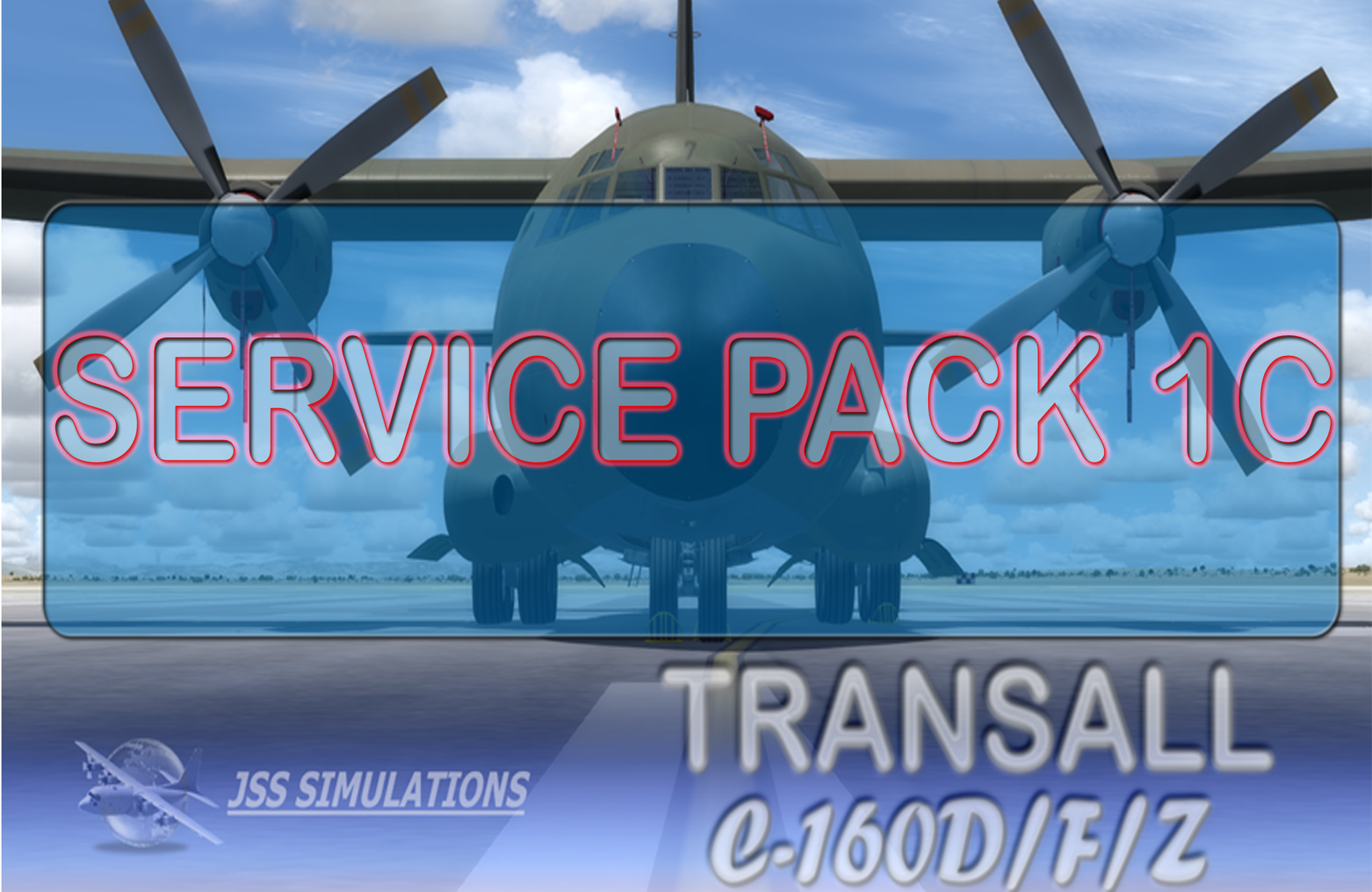 JSS Simulations - Transall C-160
Customers of FSX, FSX Steam and P3D V3, please download the Service Pack on the link below.
The Transall C160 is NOW fully compatible for Prepar3D V4, however the installer for Prepar3D V4 is NOT included in this service pack.  All Flight1 customers that would like to convert from FSX, FSX Steam and P3D V3 to Prepar3D V4 then please visit www.flight1.com, and download the new full eCommerce installer, then using your previous key and password extract the full installer from the eCommerce wrapper.  
Otherwise, please contact the online store where you bought your original copy of the Transall C-160, providing them with your order number/serial number and request the Prepar3D installer.
NOTE: Before installing this service pack, rename your current sound folder to sound.0 as this service pack will overwrite the original file. Just in case you prefer the old sound and you want to go back to it but we think you'll love the new one!
Fixes in Service Pack 1c include:
Fix 1 - Autopilot
Fix 2 - Gear warning sound
Fix 3 - APU sound
Fix 4 -  BETA light indication and gear door/gear indication lights
ALSO includes fixes below from Service Pack 1b
Fix 1 - New and improved sound
Fix 2 - Autostart short cut keys enabled(ctrl+shift+F4 / ctrl+e)
Fix 3 - Cabin depressurisation alert sound off switch
Fix 4 - Landing light visible on certain ground textures in daytime disabled
Fix 5 - PP21 switch now acts as the Avionics switch (especially relevant for customers who use the GTN750 GPS)
ALSO includes fixes below from Service Pack 1a
Fix 1 - fix to pitot heating
Fix 2 - fix to pressurisation alarm sounding when carrying out high altitude parachute jumps
Fix 3 - fix to guard switches (close position) - artificial fuel switches, auto-pilot master switches and all pp21 switches
Fix 4 - pressure relieve valve switch is now spring loaded and works on the switch guard
Fix 5 - strobe fix on all simulator platforms
Fix 6 - sound fix on taxi
AND fixes below from Service Pack 1
Fix 1 - external power not charging battery
Fix 2 - APU generator not charging battery
Fix 3 - generators not giving sufficient load for battery charging
Fix 4 - a few cosmetic updates